Regular price
Sale price
€99,00 EUR
Unit price
per
Sale
Sold out
Availability:

Unavailable

Product Code: SKU712421.1
View full details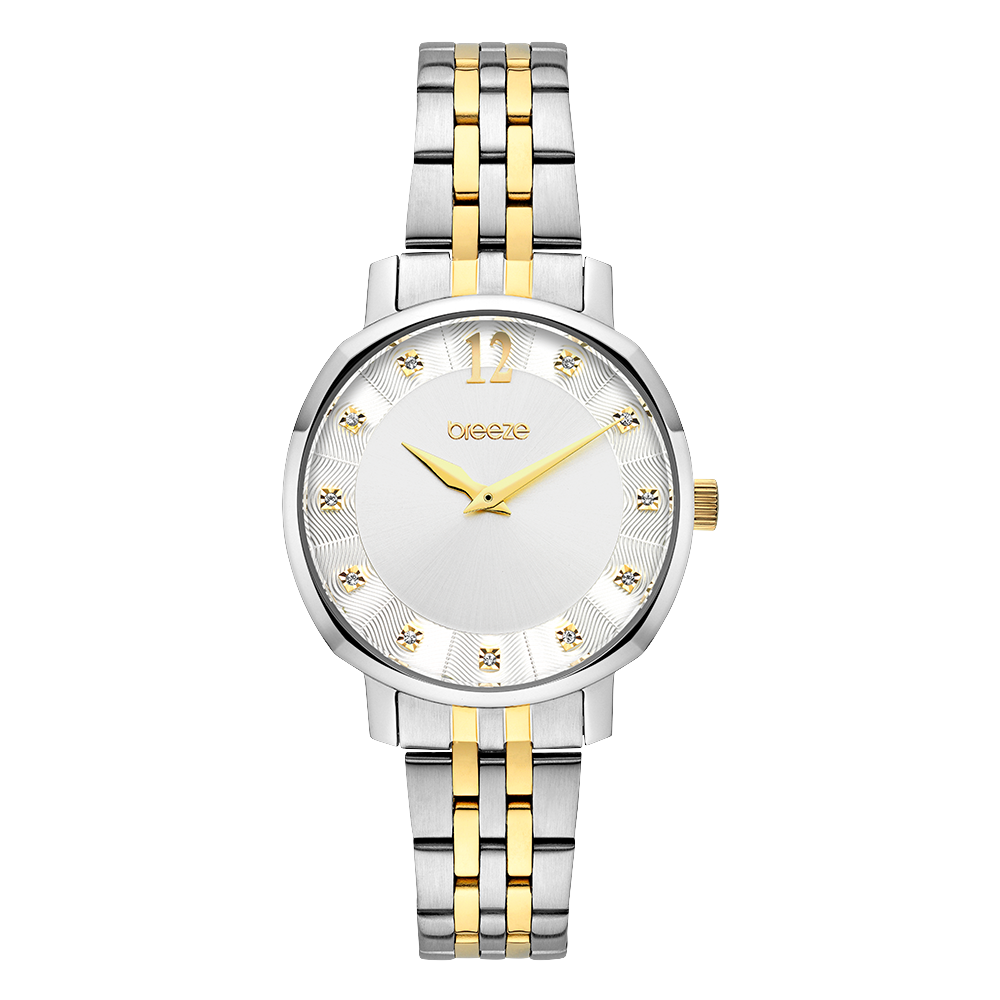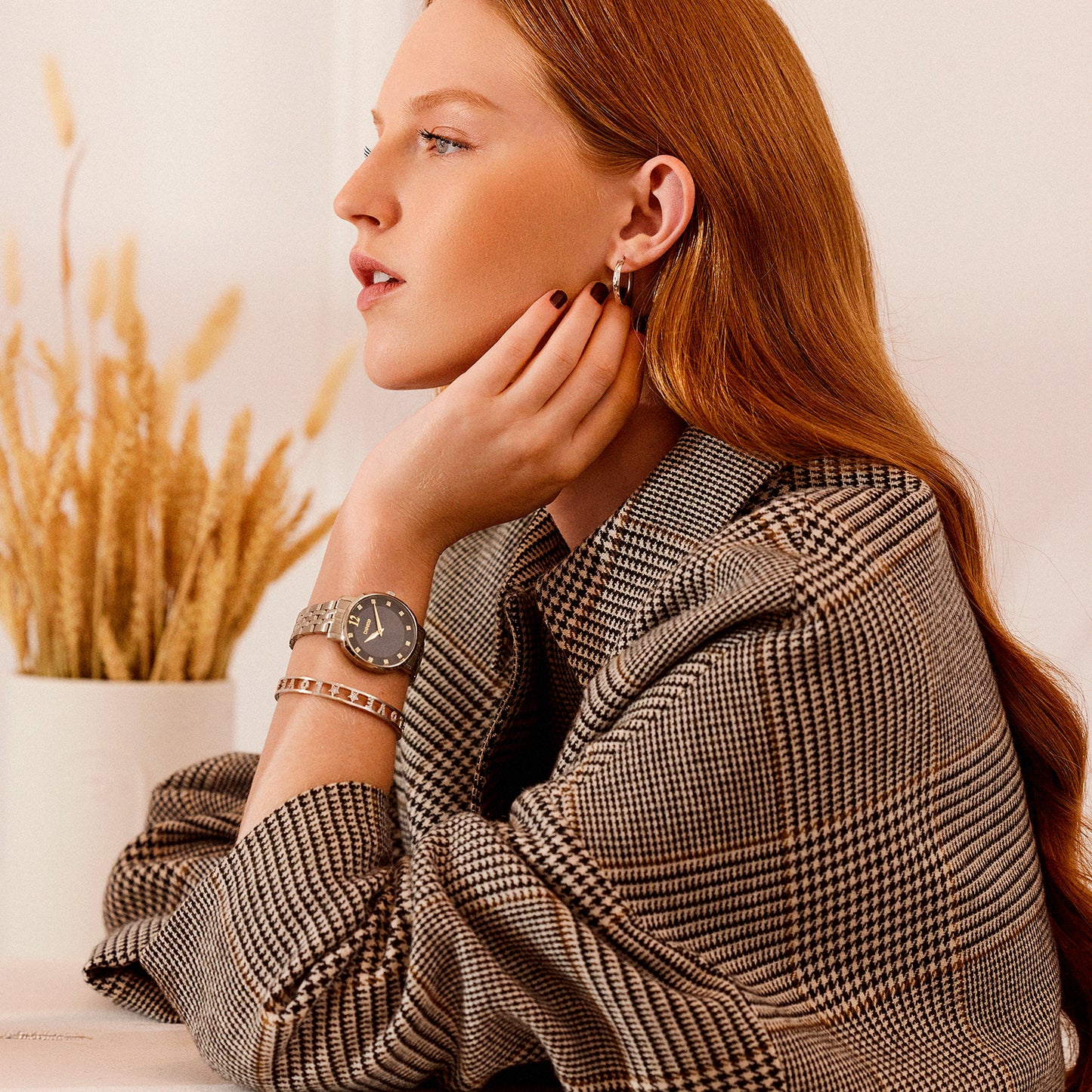 Solid stainless, premium quality steel Case (316L)
Water resistant 100m(up to 10ATM)
Screw-in Crown with embossed "B" logo
DESCRIPTION

Κάσα από μασίφ ανοξείδωτο ατσάλι υψηλών προδιαγραφών για ισχυρή αντιοξειδωτική προστασία, εξαιρετική αντοχή στα χτυπήματα και εκπληκτική λάμψη * Διάμετρος Κάσας 35,0 mm * Πάχος Κάσας 8,3 mm * Αναλογικός Μηχανισμός quartz ακριβείας * Μπρασελέ από ατσάλι * Κούμπωμα ασφαλείας * Γυαλιστερό καντράν, 11 Swarovski κρύσταλλα για ενδείξεις της ώρας, και με μεταλλική ένδειξη το 12h, *  Ανάγλυφο λογότυπο πάνω στην πλάκα του καντράν  * Κορώνα με ανάγλυφο το "b" του λογοτύπου * Αδιάβροχο στα 50 μέτρα (5 ΑΤΜ)    

  
DETAILS

| | |
| --- | --- |
| Μέγεθος Κάσας  | Ø 35,0 mm , Πάχος κάσας: 8,3 mm |
| Χρώμα | Ατσάλι / Χρυσό |
| Υλικό Μπρασελέ | Ατσάλι |
| Υλικό Κάσας  | Μασίφ ανοξείδωτο ατσάλι υψηλών προδιαγραφών  |
| Λογότυπο Καντράν | Ανάγλυφο λογότυπο πάνω στην πλάκα του καντράν |
| Καντράν  | 11 Swarovski κρύσταλλα για ενδείξεις της ώρας  |
| Μηχανισμός | Αναλογικός μηχανισμός quartz ακριβείας |
| Κούμπωμα | Διπλό Κούμπωμα ασφαλείας |
| Κορώνα | Κορώνα με ανάγλυφο το "b" του λογοτύπου |
| Βάθος Αντοχής στο Νερό | Αδιάβροχο 50 m (5 ΑΤΜ) |
DELIVERY & RETURNS

DELIVERY

Our delivery is approximately 2-5 working days
Our courier delivers from Monday to Friday during business hours and will make three delivery attempts. After the third failed attempt, your order will be returned to our warehouse. Please note that once you have placed an order, it is no longer possible to modify your shipping address. Please contact Customer Service should you have any questions about your order.
You can check the status of your order and track its delivery at any time, by following the Airway Bill Number sent to you via email.
For further assistance, contact us, we will be happy to assist you.

RETURNS

You can return any item purchased on Breeze Watches and Jewelry within 15 days of the delivery date. Here's how:

Fill out the Return Form
Make sure the merchandise you return is in its original condition, tags and packaging included, otherwise we will be unable to accept your return and issue a refund.
Pack the items in the order box (or any rigid carton box) and send back to :
DREAM SPOT LTD
5, Kolokotroni Street
154 51 Athens
Greece

Due to merchandising restrictions, all returns must be shipped from the same country they were purchased from.

Once your package reaches the warehouse, please allow 3 to 7 business days (depending on peak times) for your return to be processed. If your return does not meet the conditions listed, the package will be sent back to you. When your return has been accepted, your refund will be issued and you will receive a confirmation email.

The time needed to process your refund may vary based on the payment method used:

Credit Card: Our bank will reimburse you within 7 business days of the Return Acceptance Confirmation email. The time it takes to restore the credit back to your account depends on the Credit Card Issuer. Please note that we cannot refund a credit card that is different from the one used for the purchase.

PayPal: You will see the refund in your PayPal account within 24 hours of the Return Confirmation email.

Cash on Delivery: Your refund will be issued through wire transfer to a bank account that should be indicated in the  Return Form. You will see the refund in your account within 10 business days of the Return Confirmation email.